The Goodyear Blimp Returns 2022
Monday, 9th May 2022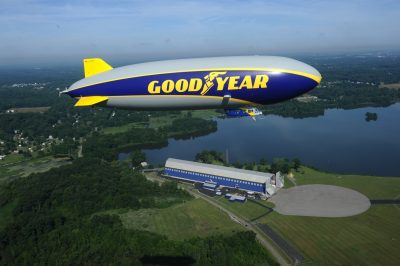 After launching its European campaign in 2020, Goodyear flew over iconic races such as Le Man 24 hour, before flying across a number of major international racing events in 2021.
More commonly seen flying in the United States at major sporting events including NASCAR races, NBA games and PGA golf events, the Goodyear Blimp is a UK icon in its own right. It made its first European flight over Cardington, England, in June 1972, and has since appeared at a number of prominent sporting and cultural events, including the 1980 FA Cup Final at Wembley, Live Aid in 1985 and even two royal weddings.
Undoubtedly, the Goodyear Blimp has an extremely impressive history. Having adorned the skies since 1925, the airships began dotting the skies over America and brought Goodyear's name to remote locations across the country. Fast forward to 1972, the Goodyear Blimp Europa was erected to cover UK and Western Europe, from a base established in Capena, near Rome (Italy). In the first years of the new millennium, Goodyear renewed its entire fleet launching the Spirit of Goodyear in 2000, Spirit of America in 2002 and Spirit of Innovation in 2006. Today, in 2022, we can't wait to welcome the Goodyear Blimp back to not only the UK skies, but also the UK soil.
The Goodyear Blimp will be able to land this year and enable lucky individuals to take to the skies, meet the pilots and explore the interior. You will be able to watch the Goodyear Blimp LIVE on ITV's This Morning on Wednesday 11th May, commencing at 9.58am; Or if you're London-based, you should be able to spot it overhead! The Goodyear Blimp will not fly on Friday 13th May, but will then fly over Brands Hatch Race Circuit on Saturday 14th May.
Our HiQ Tyres & Autocare Team will be there to capture content and get behind the scenes details. You can follow us on Instagram @hiqautocare, TikTok @hiqtyresandautocare, or Twitter @HiQAutocare, to keep up to date with our Goodyear Blimp journey.
Don't forget to share your photos and hashtags to show us when you spot the Goodyear Blimp. Likewise, you can track the airship yourself! Simply head over to Flightradar and use the unique code to see exactly where the Goodyear Blimp is: D-LZFN
Remember to keep your eyes on the skies!
More

HiQ

news
HiQ Tyres & Autocare are delighted to offer our Spring Promotion of 2022: A Night In A Hotel For Two when you buy two or more of ANY Goodyear Tyres.