25th March 2020: Covid-19 Update
On the 25th March 2020 the UK government announced changes to MOT certificates in order to enable key workers to continue commuting, and people to get essential food and medicine during the Covid-19 outbreak. Under these new measures vehicle owners will be granted a 6-month exemption from MOT testing.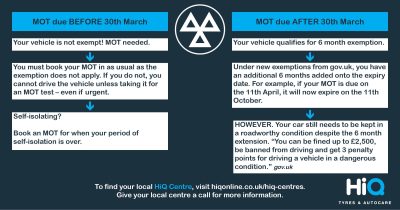 2018 Changes to uk MOTs
Changes to UK MOTs were made back in May 2018 as part of the EU Directive 2014/15. Despite the UK voting to leave the EU back in June 2016, we've so far remained an EU member and so the UK had a responsibility to introduce the changes.
We aim to keep you updated with everything you need to know, so you're always prepared no matter what.
Here we've listed the reasons behind how and why your car may pass or fail:
Fail
Pass

Fail

Dangerous: A risk to road saftey or serious impact on the environment.

Pass

Minor: No significant effect on the safety of the vehicle or impact on the environment.

Fail

Major: May affect vehicle's safety or put other road users at risk.

Pass

Advisory: Could become a more serious issue, but monitor and repair if and when necessary.

Fail

Pass

Pass: Meets minimum legal standard - keep an eye out to ensure it continues to.
Want to know more about the new rules?
Neil Barlow, Head of MOT Policy at the Driver and Vehicle Standards Agency (DVSA), talks in more detail about the changes to MOT testing to ensure that vehicles are safer on the roads.


And if you still have questions, visit our MOT FAQs for more information.