H

i

Q Takes on TikTok
Wednesday, 3rd August 2022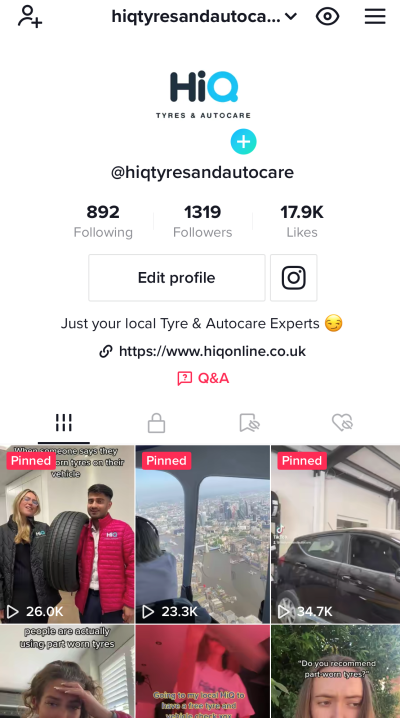 For the social media savvy or those novice to the network, anyone will attest, TikTok is absolutely hooking.
TikTok is a social networking platform launched in 2016 and has since gained incredible momentum with over 1 billion monthly active users in less than 4 years, quickly becoming social media giants, amongst the leagues of Instagram and Facebook, who for reference, took decades to reach this level of popularity. The site became extremely well known during the period of lockdown whilst everyone had a little extra time on their hands. Content creators have the opportunity to make short videos ranging from 7 seconds to 10 minutes to showcase comedy, dancing and informational clips.
After the commencement of our new social channel in September 2021, our HiQ Tyres & Autocare TikTok account has continued to grow considerable amounts, and it's only going up. Current figures are showing videos reaching up to 34.7k views and over 1.3 thousand followers in less than a year.
But why as a business have we be investing our time in TikTok? Following the excessive popularity growth of the platform, HiQ has the power to reshape the way in which we interact, inform and communicate with our customers through wholesome entertainment. The content posted on HiQ Tyres & Autocare not only aims to amuse, but most importantly to educate car users in a light-hearted manner towards the importance of taking care of their vehicles and tyres by keeping up with viral trends.
Tik Tok has become an integral part of our social channels and ultimately helps us to increase our brand awareness and engagement.
Take a look at our HiQ Tyres & Autocare TikTok page by clicking here
More

HiQ

news
HiQ Tyres & Autocare are delighted to announce that 2022 is our 30th Birthday!
We want to say a huge Congratulations to Ciaran Lewis from HiQ Tyres & Autocare Ipswich for his recent win of the prestigious Apprentice of The Year Award.