Why Choose Fulda?

Why Fulda?
The Fulda brand was established over 100 years ago in Fulda, Germany and has established a strong reputation for high quality tyres with a great value for money. Since the 1960s, Fulda has been a subsidiary company of Goodyear, the 4th largest tyre manufacturer in the world. Fulda tyres are now made in the same factories, to the same exacting standards and using the same raw materials as Goodyear branded products.
FREE Accidental Tyre Damage Warranty
Your HiQ Centre stocks products that use the most advanced manufacturing technologies to ensure the tyre products offered are of the highest standard.
Find out more
Tyre Tests
Our customers are important to us. We want every driver on Fulda tyres to have confidence when driving on the roads.
We like to ensure that every Fulda product lives up to the standards set by the founders of the company and adhered to over more than a century of innovation.
Consequently, each Fulda tyre that we design goes through no less than 50 tough tests to assess key performance criteria.
You can read more here.
Fulda Technology
Fulda's SUV and 4x4 tyres use a high-performance carcass construction to protect the tyres against knocks or bashes when driving.
Some of our top

Fulda

tyre picks
Tyre Labelling
Fuel efficiency

The lower a tyre's rolling resistance, the less fuel you will use and in turn your vehicle will create less CO2. Over a distance of 625 miles a vehicle with 'A' rated tyres will use 6 litres less fuel than a vehicle with 'G' rated tyres. So over the life of a tyre, the difference in fuel costs can really add up and have a real effect on the cost of your motoring.

Wet grip

The Wet Grip grading is all about how well the tyre performs in wet conditions. The rating of your tyre makes a big difference to your ability to stop quickly in tricky conditions. If you brake from 50mph on a wet road, then a vehicle with 'A' rated tyres will stop 18m sooner than a vehicle with 'G' rated tyres. If you have to stop suddenly on the road, the wet grip rating of your tyre is critical in determining whether you stop in time or not.

Noise emission

The amount of noise a tyre makes is measured using sound waves, with one wave being the quietest and a tyre rated at three sound waves making the most noise. A decibel rating is also given, the higher the number, the louder the tyre. The external noise rating on a tyre label tells you how a tyre rates in line with future mandatory European legislation. One wave gives the best performance, three is the worst. In fact three waves is the current limit while two meets future legislation limit requirements.
Free accidental tyre damage warranty

The high performance summer SUV tire with perfect balance of performance, fuel efficiency and mileage.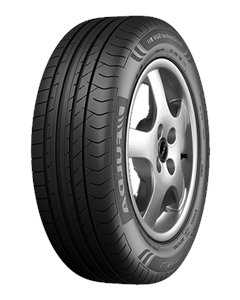 Season

summer

Vehicle type

Car

RIM size

17″ - 21″

Fuel efficiency

C

Wet grip

B

Road noise

71 - 71 db
Free accidental tyre damage warranty

The Perfect Balance of Performance, Fuel Efficiency and Mileage.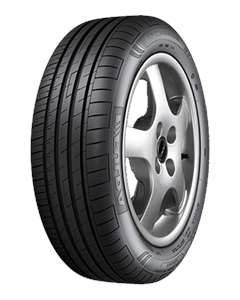 Season

summer

Vehicle type

Car

RIM size

15″ - 18″

Fuel efficiency

C - D

Wet grip

B

Road noise

70 - 72 db
There are more tyres available in H
i

Q centres. Please get in touch with H

i

Q to find out more. Call us on 0800 0214 500
Buy

Fulda

tyres
Enter your postcode or location below to find your nearest HiQ centre
Choosing the right
Fulda

tyre for you