THE GOODYEAR BLIMP RETURNS TO THE UK
Friday, 25th June 2021
An icon is returning to our skies, as for the first time in nearly a decade, the legendary Goodyear Blimp takes flight this summer over the UK. Weather permitting, the Goodyear Blimp will arrive in the UK over Folkestone on the mornings of the 26th, 27th, 29th and 30th June, before flying further inland. The flightpath will take it over Dover, Maidstone and Dartford, though it will also pass near Ashford. The airship will fly over Brands Hatch race circuit on 26th and 27th June, where it will provide aerial footage of the third round of the British Touring Car Championship. It will then take flight over central London on 29th and 30th June.
"The Goodyear Blimp is a true icon that has captured the imaginations of consumers and enthusiasts in the United States and across the world for nearly one hundred years," said Pravesh Amtha, General Manager Goodyear UK&I. "Its return to the UK has been long-awaited and we're incredibly excited to see it soaring over both London and the BTCC."
Launching its European campaign in 2020, Goodyear flew over iconic races such as Le Man 24 hour and will continue to fly in 2021 across a number of major international racing events.
The Goodyear Blimp operating in the UK will be a Goodyear-branded, Zeppelin NT airship, operated by Deutsche Zeppelin-Reederei GmbH of Friedrichshafen, Germany. This appearance is part of the latest chapter in a nearly 100-year relationship between Goodyear and Zeppelin.
The semi-rigid Zeppelin NT airship measures over 75m in length and almost 18m in height. It is the same model airship as the three Goodyear blimps operated by Goodyear in the United States. It will act as a stunning brand ambassador for Goodyear as it soars over the UK, providing unique aerial coverage of the BTCC event taking place at Brands Hatch, before making a two-day appearance in the skies over London.
More commonly seen flying in the United States at major sporting events including NASCAR races, NBA games and PGA golf events, the Goodyear Blimp is a UK icon in its own right. It made its first European flight over Cardington, England, in June 1972, and has since appeared at a number of prominent sporting and cultural events, including the 1980 FA Cup Final at Wembley, Live Aid in 1985 and even two royal weddings.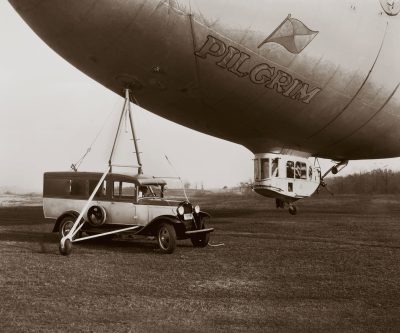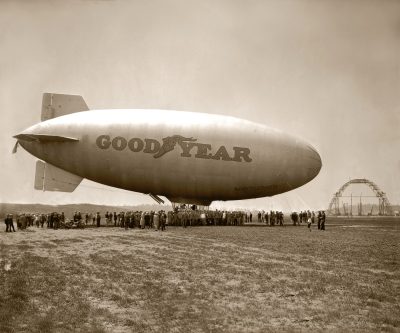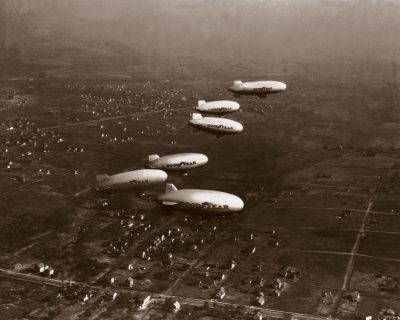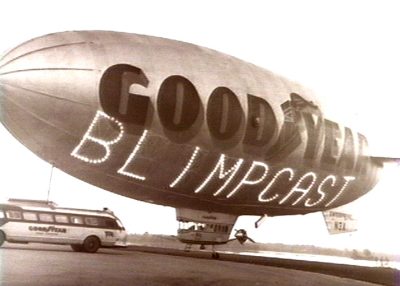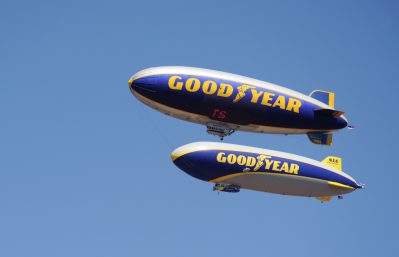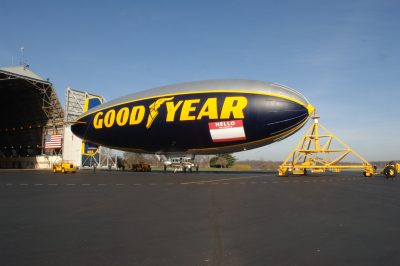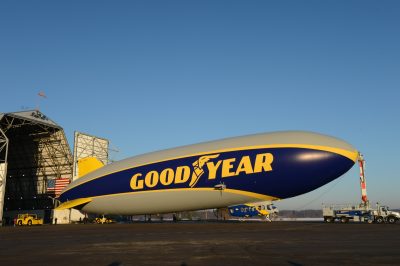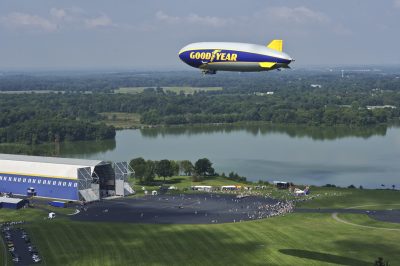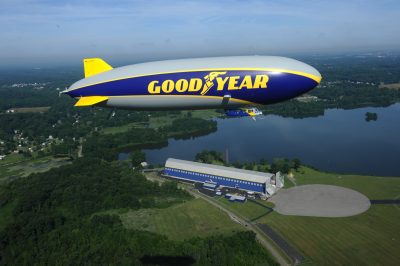 Goodyear Blimp Quick Facts
Length
The Goodyear Blimp is 82 yards long (246 feet) - the equivalent of nearly 17 of London's famous 'black cabs'.
Envelope Size
The airship's envelope is packed with 297,527 cubic feet of helium. Its capacity could hold the equivalent of 207 million golf balls or 3.5 Olympic-sized swimming pools.
Altitude
The Goodyear Blimp typically flies between 1,000 to 1,500 feet (333 to 500 yards), meaning it can reach altitudes more than three times the height of the London Eye.
Speed
The Goodyear Blimp has a top speed of 73 miles per hour, as fast as a Category 1 hurricane.
Airship Structure
The Goodyear Blimp sports a semi-rigid skeleton composed of aluminum and carbon fiber trusses that hold three vectored engines. These advancements result in more precise operation and maneuverability of the airship, allowing it to hover in place and take off and land like a helicopter.
The gondola (passenger car) of the Goodyear Blimp seats up to 12 passengers and boasts unparalleled panoramic views with larger, wrap-around windows.
It will then make its way to Brands Hatch, 26th and 27th June, providing aerial footage for the BTCC racing!
Finally, The Goodyear Blimp will fly over iconic landmarks in London 29th and 30th June! #LookupLondon
You can follow the Goodyear Blimp on its journey across London by using the flight tracker. Use code : DLZFN.