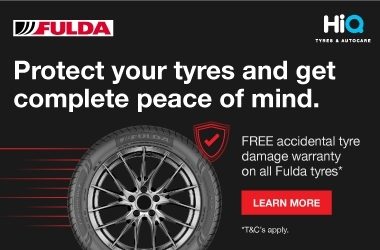 Fulda Free Accidental Tyre Damage Warranty
How Do I Make A Claim?
Should you wish to make a claim, you may do so at any participating Fulda Dealer. Your Fulda dealer will check that both your warranty and the nature of your claim is valid. You will need to produce your original sales invoice and stamped warranty leaflet (see page to left)., and your Fulda dealer will then calculate your entitled percentage allowance.

How Is My Percentage Allowance Calculated?
Your Fulda dealer will measure the remaining legal tread on your tyre. Although tyres are road-legal to 1.6mm, we always recommend replacement above 3mm in order to maintain optimum performance & safety, therefore the last 3.5mm of tread is not counted. The tread will be measured in the centre and on the edges of the tyre to ensure an accurate and consistent reading. If any measurements on the tyre are below 3.5mm, no credit will be given. The decision of the individual participating Fulda dealer is final. By looking at the table below you can see how the amount of remaining legal tread is converted to a percentage claim allowance. This allowance is then redeemed as a percentage discount against the current selling price of your new replacement Fulda tyre. The terms of this warranty require that the replacement tyre fitted is the same size as the original and is a Fulda tyre. Your old warranty leaflet along with the damaged tyre will be retained by the dealer and a new warranty leaflet will be issued to cover the new tyre.
What If I Want To Change To Another Brand Of Tyre?
You cannot make a claim under this warranty if you wish to switch to another tyre brand. However, if your Fulda dealer believes that your tyre may have failed due to a manufacturing fault rather than due to accidental damage, they will be more than happy to send it back to the manufacturer through the official tyre industry adjudication process. Only after the adjudication process has been completed and a manufacturing fault found, will a percentage allowance be made based on the remaining legal tread on the tyre. You can then use this allowance to affect a discount against any replacement tyre brand you choose to purchase. The manufacturer's decision will be final.
Discount Calculation Table
| | |
| --- | --- |
| Remaining Usable Tread Depth | |
| 7.5mm | 100% |
| 7.0mm | 90% |
| 6.5mm | 80% |
| 6.0mm | 70% |
| 5.5mm | 60% |
| 5.0mm | 45% |
| 4.5mm | 35% |
| 4.0mm | 20% |
| 3.5mm | 10% |