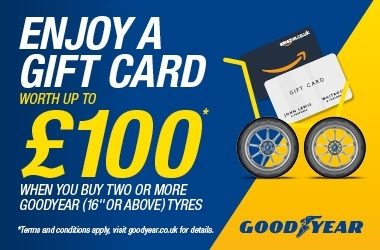 Goodyear Autumn 2021 Promotion
Goodyear Autumn 2021 Gift Card Promotion 2021
1st October 2021 – 30th November 2021 (inclusive)
At HiQ Tyres & Autocare approved participating centres only.
Promotion Terms & Conditions
The "Goodyear Autumn 2021 Gift Card Promotion " (the "Promotion") is open to all consumers who are UK residents aged 18 and over except employees of Goodyear Tyres UK Ltd (the "Promoter") and its agencies or anyone else connected with the creation and administration of the promotion.
The promotion is only and exclusively available at HiQ Tyres & Autocare Franchise or equity centres as listed on www.goodyear.co.uk within the qualifying promotional period 1st October 2021 until 3oth November 2021 for the purchase of selected Goodyear tyres.
Approved participating retailers are listed on www.goodyear.co.uk from 1st Oct 2021 until 31st December 2021 (final redemption/claim date for this promotion)
There is a purchase requirement. The offer is open to retail customers who purchase qualifying Goodyear tyres (two or more Goodyear car, van, 4x4 or SUV tyres with rim size of 16" (inch) or above for a single vehicle.
The offer excludes company vehicle drivers (Fleet), businesses, organisations and institutions.
By participating in this Promotion, claimants agree to be bound by the terms and conditions of the promotion and by any other requirements set out in the promotional materials.
By participating in this Promotion, the claimant is required to submit information on their claim on the online claim form of the Goodyear Rewards portal www.goodyearrewards.co.uk using the claim code GYAUTUMN2021 and upload a legible copy of their invoice from the retailer to a third-party agency (The Marketing Lounge Partnership).
The information submitted will be checked and verified by The Marketing Lounge Partnership to confirm that the submission is compliant with the terms of the promotion.
Invoices from participating Approved HiQ Tyres & Autocare Retailers must be submitted by claimants and dated within the qualifying promotion period.
This promotion will run from 1st October 2021 until 30th November 2021 and is deemed to be the qualifying promotional period for the promotion for participating approved retailers.
The Goodyear tyres purchased must be fitted by participating approved retailers between 1st October 2021 and 30th November 2021.
The Promotion will reward a Gift code for Amazon.co.uk or John Lewis to the reward schedule outlined with the purchase of two or more Goodyear tyres of rim diameter 16" and above.
Claimants must choose one voucher, either Amazon OR a John Lewis Gift card.
Rewards will be issued to claimants within 28 days of the validation of the claim (not the date of the approved retailer invoice) online at www.goodyearrewards.co.uk against the terms and conditions of the promotion.
Providing the claim is successful, the reward will be emailed to the recipient – fulfilment will be subject to the choice of voucher by the customer.
The claimant must submit their claim via the www.goodyearrewards.co.uk portal by the 31st December 2021. The campaign code is 'GYAUTUMN2021' for claims on www.goodyearrewards.co.uk. Claims submitted after the specified dates will not be accepted.
No liability can be accepted for gift rewards not received due to incorrect information provided. Please check junk and spam filters for email confirmations regarding your claim.
Please ensure any gift card rewards are used within the redemption period (outlined in the retailer reward terms and conditions below).
The promoter or third-party agency may not be held liable for the claimant's failure to use any gift card reward within the redemption period.
Claims must be made on the official claim form completed online at www.goodyearrewards.co.uk and must be accompanied with an uploaded, clear and legible invoice (either a scan or photograph). The image must clearly show the Goodyear tyres purchased, rim size of the Goodyear tyres purchased and the date of purchase plus the invoice number and the participating retailer details. It is recommended that you keep a copy for your records in the event of a query.
The Marketing Lounge Partnership (MLP) will send you an email receipt of the validated claim within seven days of validation of your claim.
Only one claim per vehicle is permitted.
Entry into this promotion cannot be in conjunction with any other offer.
Incomplete, invalid, illegible or late claims will not be accepted.
The Promoter reserves the right to discard illegible receipts.
The Promoter reserves the right to dispute a claim if it believes the claim is not legitimate.
The Promoter's decision is final.
The Gift cards are non-transferable and no cash alternative will be offered.
The Gift cards are subject to availability. The Promoter reserves the right to substitute with an alternative gift of equal value if circumstances beyond its control make this unavoidable.
The Promoter has the authority to amend or withdraw this at any time during the promotional period without prior notice.
Promoter: Goodyear Tyres UK Ltd, 2920 Trident Court, Solihull Parkway, Birmingham Business Park, Birmingham, B37 7YN.
This promotion is managed by third party agency: The Marketing Lounge Partnership Limited, The Cow Shed, Walnut Tree Farm, Stretton, WA4 4PG. Telephone 01565 656 273.
COVID-19 restrictions may result in some delays in fulfilment of rewards.
Rewards Grid
Customers who purchase 1 tyre do not qualify for the offer. Customers who purchase 3 tyres will qualify under the 2-tyre tier.
| | | |
| --- | --- | --- |
| Rim Size | 2/3 Tyres | 4 Tyres |
| 16" Goodyear Tyres | £15 Gift Card | £30 Gift Card |
| 17" Goodyear Tyres | £25 Gift Card | £50 Gift Card |
| 18" Goodyear Tyres | £40 Gift Card | £80 Gift Card |
| 19"+ Goodyear Tyres | £50 Gift Card | £100 Gift Card |
Reward Terms and Conditions:
Amazon.co.uk Gift card terms and conditions
*Amazon.co.uk is not a sponsor of this promotion. Amazon.co.uk Gift Cards ("GCs") may be redeemed on the Amazon.co.uk website towards the purchase of eligible products listed in their online catalogue and sold by Amazon.co.uk or any other seller selling through Amazon.co.uk. GCs cannot be reloaded, resold, transferred for value, sold for cash or applied to any other account. Amazon.co.uk is not responsible if a GC is lost, stolen, destroyed or redeemed without permission. see www.amazon.co.uk/gc-legal for complete terms and conditions. GCs are issued by EU S.à.r.l. All Amazon ®, ™ & © are IP of Amazon.com Inc. or its affiliates.
John Lewis e-Gift Card Terms and Conditions
1. The John Lewis Partnership e-gift card can be redeemed in John Lewis or Waitrose shops and online at johnlewis.com or waitrose.com as part or full payment for goods (exclusions apply).
2. Protect your e-gift card and treat it as cash; lost, stolen or damaged cards will not be replaced, or exchanged for physical gift cards or cash
3. This e-gift card will expire 24 months from purchase or last use. Making a purchase or a balance enquiry refreshes the 24-month expiry period.
4. E-gift cards ordered online can be activated with a minimum value of £10 and have a maximum value of £500.
5. This e-gift card cannot be exchanged for cash. No change or refund will be given, except in accordance with your statutory rights. Any balance remaining on the card may be applied to future purchases, provided the card has not expired.
6. The card cannot be used to discharge indebtedness in respect of an account card or credit card issued by John Lewis plc, Waitrose Limited or John Lewis Financial Services Limited, nor can it be used for the purchase either directly or indirectly of any financial product or service.
7. For full terms and conditions and balance enquiries visit johnlewis.com/customer-services.