Dunlop
SP Sport Maxx
Why choose this tyre?
Motorsports grip and braking for a dynamic driving experience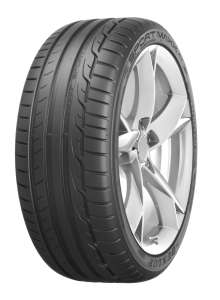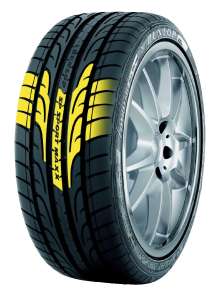 Exceptional grip, enhanced control, short breaking & fuel efficient
The SportMaxx RT delivers superb wet and dry grip thanks to adaptive compound technology. Motorsports derived polymers adapt to the textures of the road surface, maximising road contact and increasing grip.

Dunlop's innovative Short Braking blocks help to ensure shorter braking distances when travelling at speed. Designed for high performance driving, these extra stiff blocks increase road contact under braking force.

Enjoy stable high speed handling with smooth transitions from straight to curve. Massive outer shoulder blocks help to enhance stability and handling when cornering.

The SportMaxx RT employs a lightweight construction to reduce rolling resistance - lowering fuel consumption and CO2 emissions.







Why are tyre labels so important?
Buying the right tyres for your car needn't be confusing
This quick guide will help demystify tyre labels and markings.
This is the tyre label range for the Dunlop SP Sport Maxx tyre, depending on the size you need.
Fuel efficiency
Save money by maximising the energy efficiency of your tyres. 'A' is rated most efficient and 'G' is the least.
The Dunlop SP Sport Maxx is rated from B to F
Wet grip
Tyres with good grip can effect shorter breaking distances to keep you safe. 'A' rating is considered shortest and safest.
The Dunlop SP Sport Maxx is rated from A to E
Noise emissions
As a tyre rotates it creates noise. Improve your driving environment by choosing tyres with a lower decibel rating.
The Dunlop SP Sport Maxx is rated from 66dB to 73
Choose the right size tyre for your car
Tell us a few key details and we'll show you which are the right tyres for your car.
Tyre Labelling
Fuel efficiency

The lower a tyre's rolling resistance, the less fuel you will use and in turn your vehicle will create less CO2. Over a distance of 625 miles a vehicle with 'A' rated tyres will use 6 litres less fuel than a vehicle with 'G' rated tyres. So over the life of a tyre, the difference in fuel costs can really add up and have a real effect on the cost of your motoring.

Wet grip

The Wet Grip grading is all about how well the tyre performs in wet conditions. The rating of your tyre makes a big difference to your ability to stop quickly in tricky conditions. If you brake from 50mph on a wet road, then a vehicle with 'A' rated tyres will stop 18m sooner than a vehicle with 'G' rated tyres. If you have to stop suddenly on the road, the wet grip rating of your tyre is critical in determining whether you stop in time or not.

Noise emission

The amount of noise a tyre makes is measured using sound waves, with one wave being the quietest and a tyre rated at three sound waves making the most noise. A decibel rating is also given, the higher the number, the louder the tyre. The external noise rating on a tyre label tells you how a tyre rates in line with future mandatory European legislation. One wave gives the best performance, three is the worst. In fact three waves is the current limit while two meets future legislation limit requirements.
Your tyre selection
No filtered tyre results
Find a H
i

Q centre near you
Sorry, we couldn't find any tyres suitable for your vehicle.
Sorry, we couldn't find tyres matching fitments for your car reg.
The full range of Dunlop tyres