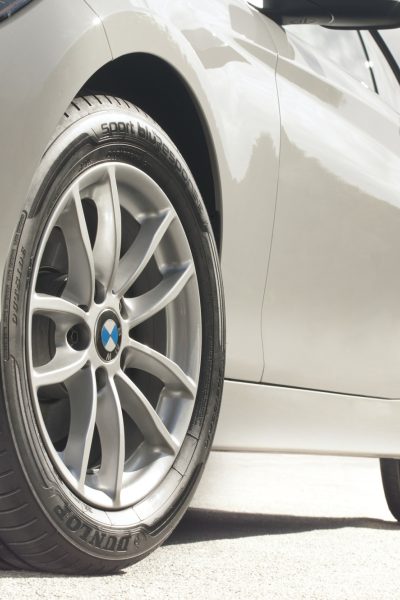 Dunlop
Sport BluResponse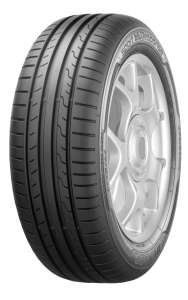 Lower noise due to closed shoulder grooves

The Sport BluResponse employs an aerodynamic shape and low-heat compound to reduce rolling resistance by 30% compared to its predecessor*. That translates to average savings of €100 per year in fuel costs**.

The Sport BluResponse uses a polymer compound to give you better grip and handling on wet roads. Large central grooves in the tread evacuate water quickly, reducing the risk of aquaplaning.

Closed shoulder grooves suppress noise emission, for a quieter and more comfortable ride.

Dunlop's innovative Short Braking blocks reduce braking distances on wet and dry roads. Designed for high performance driving, these extra-stiff blocks increase road contact under braking force.

How do we rate them?
Derived from Dunlops work in motorsport, where the desire for low fuel consumption and good wear properties are now just as important as the raw grip of the tyre.
"

I take tyre safety and,quality and road safety very seriously. I also believe in value for money. That's why I'm now on my 3rd set of Bluresponse tyres. Again I am extremely happy with their quality and performance in mixed weather, road and traffic conditions. I do enjoy my driving and keep within the law and traffic conditions, but enjoy making progress where conditions allow. These tyres have the safety and quality to allow me to do so.

Durham

"
Why are tyre labels so important?
Buying the right tyres for your car needn't be confusing
This quick guide will help demystify tyre labels and markings.
This is the tyre label range for the SP Sport Bluresponse tyre, depending on the size you need.
Fuel efficiency
Save money by maximising the energy efficiency of your tyres. 'A' is rated most efficient and 'G' is the least.
The Dunlop Sport BluResponse is rated from A to E
Wet grip
Tyres with good grip can effect shorter breaking distances to keep you safe. 'A' rating is considered shortest and safest.
The Dunlop Sport BluResponse is rated from A to C
Noise emissions
As a tyre rotates it creates noise. Improve your driving environment by choosing tyres with a lower decibel rating.
The Dunlop Sport BluResponse is rated from 66dB to 72
Choose the right size tyre for your car
Tell us a few key details and we'll show you which are the right tyres for your car.
Tyre Labelling
Fuel efficiency

The lower a tyre's rolling resistance, the less fuel you will use and in turn your vehicle will create less CO2. Over a distance of 625 miles a vehicle with 'A' rated tyres will use 6 litres less fuel than a vehicle with 'G' rated tyres. So over the life of a tyre, the difference in fuel costs can really add up and have a real effect on the cost of your motoring.

Wet grip

The Wet Grip grading is all about how well the tyre performs in wet conditions. The rating of your tyre makes a big difference to your ability to stop quickly in tricky conditions. If you brake from 50mph on a wet road, then a vehicle with 'A' rated tyres will stop 18m sooner than a vehicle with 'G' rated tyres. If you have to stop suddenly on the road, the wet grip rating of your tyre is critical in determining whether you stop in time or not.

Noise emission

The amount of noise a tyre makes is measured using sound waves, with one wave being the quietest and a tyre rated at three sound waves making the most noise. A decibel rating is also given, the higher the number, the louder the tyre. The external noise rating on a tyre label tells you how a tyre rates in line with future mandatory European legislation. One wave gives the best performance, three is the worst. In fact three waves is the current limit while two meets future legislation limit requirements.
Your tyre selection
No filtered tyre results
Find a H
i

Q centre near you
Sorry, we couldn't find any tyres suitable for your vehicle.
Sorry, we couldn't find tyres matching fitments for your car reg.
The full range of Dunlop tyres