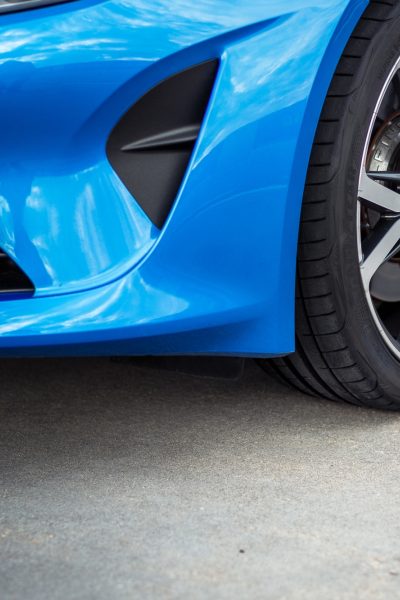 Goodyear
Eagle F1 Supersport
Why choose this tyre?
A racing inspired tyre designed for maximum grip and dry road handling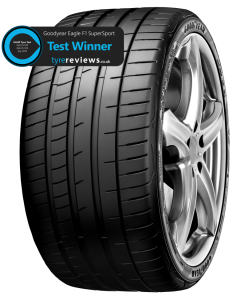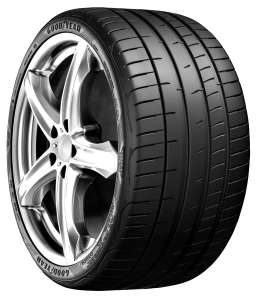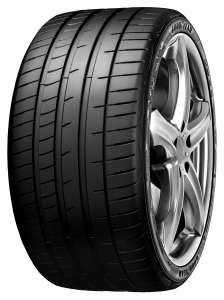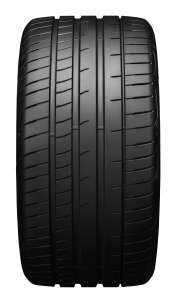 A race inspired tyre for superior grip and handling on dry roads. Designed for the road and track.

With an unrivalled 361 F1 wins, Goodyear used all their track experience to create a new range of performance tyres. The Eagle F1 SuperSport is the most road orientated of these and is perfectly suited to hot hatches and performance saloons. The Eagle F1 SuperSport strikes the perfect balance between outright dry grip and wet performance.
FREE Accidental Tyre Damage Warranty
Your HiQ Centre stocks products that use the most advanced manufacturing technologies to ensure the tyre products offered are of the highest standard.

Find out more
Original Equipment
The Eagle F1 SuperSport has been chosen as Original Equipment by some of the worlds leading car manufacturers. This means that they have been rigorously tested and chosen as the factory fitment by the manufacturer.
AWARDS & REVIEWS
The Goodyear Eagle F1 SuperSport was recently awarded the coveted crown in the tyrereviews.co.uk UHP head-to-head comparison test fighting off it's long establish rivals. Watch the full test here.
How do we rate them?
The new Goodyear Eagle F1 SuperSport marks the highly anticipated return of Goodyear into the Ultra-Ultra High Performance category and it doesn't disappoint, setting the new benchmark among it's rivals.
"

I had the pleasure of testing the Eagle F1 SuperSport with the Renault Alpine and I would highly recommend it to anybody with a high performance car. The grip is incredible and cornering is effortless.

Jake Keenan - HiQ Brandon

"




Engineered to perform
Stiff tread ribs deliver razor sharp responsive directional changes.
The super-stiff sidewall design improves handling without compromising ride comfort.

Dry-optimized outer sections paired with three wet-optimized central segments enables you to safely push harder through corners on dry roads whilest also enjoying exceptional wet braking and handling performance.
The Eagle F1 SuperSport draws on Goodyear's racing experience to provide superior grip and handling. Goodyear has innovatively addressed wet performance through the deployment of a multi-compound combination that sees dry-optimised outer sections paired with three wet-optimised central segments. This enables drivers to safely push harder through corners on dry roads while still enjoying an exceptional wet braking and wet handling performance. Fueling your love for speed and offering excellent handling in both wet and dry conditions. Combined with features such as stiff tread ribs Goodyear have engineered a tyre that provides great control in cornering. A super-stiff sidewall design further improves handling without unduly compromising ride comfort.

Two compounds for optimal wet and dry performance.

Maximum contact surface for high-speed cornering.
Stiffer sidewalls for high speed stability.
Tread deformation protector for high speed stability.
Colin Turkington Recommends Eagle F1 SuperSport
Colin Turkington, four-time reigning BTCC Champion, put our Eagle F1 SuperSport tyres to the test in our BMW M2 Competition with an extensive road and track day test starting at Donington Park. Making for an interesting comparison, Colin was able to switch between his usual BMW 330i MSport BTCC car on Goodyear racing slick tyres to the BMW M2 Competition test car, gripped by the latest Eagle F1 SuperSport tyres.
"

DONINGTON IS TOUGH ON TYRES. NEVERTHELESS, THE RESPONSE AND STABILITY GIVES ME THE CONFIDENCE TO ATTACK FAST CORNERS

"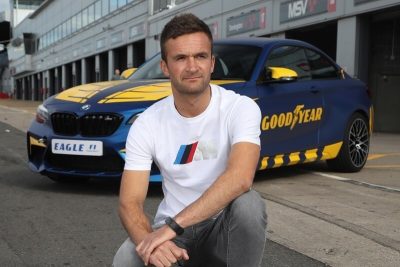 "

THE STIFFER SIDEWALL GIVES ME THE FEEL AND FEEDBACK I NEED IN THESE FAST CURVES.

"
"

THE REAR END IS PINNED TO THE ROAD. THAT'S WHAT YOU NEED ON A POWERFUL CAR LIKE THIS.

"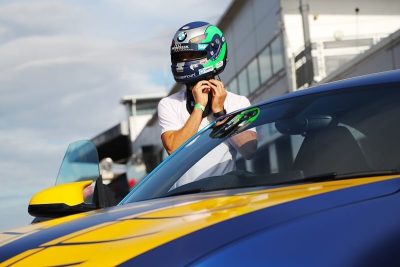 Eagle F1 Supersport Designed for the road and track
A race inspired tyre for superior grip and handling on dry roads.

Eagle F1 SuperSport in action
WHY ARE TYRE LABELS SO IMPORTANT?
Buying the right Eagle F1 SuperSport tyre for your car needn't be confusing.
This quick guide will help demystify tyre labels and markings. This is the tyre label range for the Eagle F1 SuperSport tyre, depending on the size you need.
Fuel efficiency
Save money by maximising the energy efficiency of your tyres. 'A' is rated most efficient and 'G' is the least.
The Goodyear Eagle F1 Supersport is rated from B to E
Wet grip
Tyres with good grip can effect shorter breaking distances to keep you safe. 'A' rating is considered shortest and safest.
The Goodyear Eagle F1 Supersport is rated from A to E
Noise emissions
As a tyre rotates it creates noise. Improve your driving environment by choosing tyres with a lower decibel rating.
The Goodyear Eagle F1 Supersport is rated from 69dB to 75
Choose the right size tyre for your car
Tell us a few key details and we'll show you which are the right tyres for your car.
Tyre Labelling
Fuel efficiency

The lower a tyre's rolling resistance, the less fuel you will use and in turn your vehicle will create less CO2. Over a distance of 625 miles a vehicle with 'A' rated tyres will use 6 litres less fuel than a vehicle with 'G' rated tyres. So over the life of a tyre, the difference in fuel costs can really add up and have a real effect on the cost of your motoring.

Wet grip

The Wet Grip grading is all about how well the tyre performs in wet conditions. The rating of your tyre makes a big difference to your ability to stop quickly in tricky conditions. If you brake from 50mph on a wet road, then a vehicle with 'A' rated tyres will stop 18m sooner than a vehicle with 'G' rated tyres. If you have to stop suddenly on the road, the wet grip rating of your tyre is critical in determining whether you stop in time or not.

Noise emission

The amount of noise a tyre makes is measured using sound waves, with one wave being the quietest and a tyre rated at three sound waves making the most noise. A decibel rating is also given, the higher the number, the louder the tyre. The external noise rating on a tyre label tells you how a tyre rates in line with future mandatory European legislation. One wave gives the best performance, three is the worst. In fact three waves is the current limit while two meets future legislation limit requirements.
Your tyre selection
No filtered tyre results
Find a H
i

Q centre near you
Sorry, we couldn't find any tyres suitable for your vehicle.
Sorry, we couldn't find tyres matching fitments for your car reg.
The full range of Goodyear tyres