The Importance Of Checking Your Tyres This Winter
Thursday, 2nd December 2021
Performing a regular tyre check will always be essential to keep yourself and other drivers safe on the road, but the winter season often sees a general increase in carelessness when it comes to tyre safety. As it gets darker earlier and people are typically more in a rush, an efficient winter tyre check is often at the bottom of a to-do list.
2021 has seen a lot of change and without question, this year is very different to the last. Last winter we were once again told to stay at home and only travel when essential, so it could be argued that our vehicles didn't feel the full impact of colder conditions. Now, having returned to some level of normality, it is anticipated that road accidents this winter will increase by 267% in alignment with previous years. That's 6500 more accidents than there usually are during the summer.
To reduce these numbers and ensure safe winter driving, we recommend paying careful attention to the wear and condition of your tyres over the coming few months. You should be checking that your tread depth is at least 1.6mm and that there are no cuts or bulges anywhere, to not only guarantee your safety but to avoid any costly fines.
Likewise, check your tyre pressure is correct for colder conditions. As temperature drops, as does tyre pressure and so it is vital to routinely check all four tyres and maintain the level specified in your vehicles handbook.
HiQ Tyres & Autocare offer an entirely free tyre check service where you can have your tyres checked by our team, to provide some reassurance about your safety on the road. We will always be glad to offer any advice or guidance without cost, to ensure your mind is at ease about your vehicle.
Furthermore, another safety precaution during the winter period may be to buy new winter tyres, which are specifically designed to cope with icy roads and have special tread to disperse water and snow. Winter tyres undoubtedly optimise safety and provide peace of mind that you and your vehicle can tackle the wetter or more icy days ahead.
Some more driving top tips:
- Clean the glass of your lights and indicators
- Check the condition of your windscreen wipers
- Repair any cracks or chips in the windscreen
- Top up your levels of engine oil, windsreen wash and coolant
- Check the condition of the door lock and spray with WD40 to avoid freezing
For more information, get in touch with your local HiQ Tyres & Autocare centre today.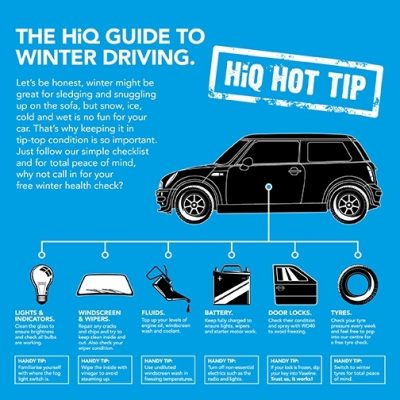 More from

HiQ

blog
Here at HiQ Tyres and Autocare we're encouraging our customers to consider the benefits of having winter tyres fitted on their car this winter.