What Size Tyres for my Car?
Tuesday, 17th May 2022
When it comes to replacing your car tyres, getting the right size is hugely important. You can find the tyre size your car was originally fitted with in your vehicle owner's manual or on the inside of your driver or passenger door. Sometimes, this information is also available in the glove compartment.
Alternatively, you can find the right size tyres for your car by searching for your registration number on HiQ's website.
Find Your Tyre Size by Your Registration
You can search online for your specific tyre size simply by knowing your registration plate number. On the HiQ homepage, enter your registration number and your location. This will instantly bring up the right size tyres for you to fit to your car. From here, you can continue to book a tyre fitting appointment at your local HiQ centre, should you wish.
Find new tyres
for your car
How to Check Your Tyre Size
You can check your tyre size by reading the sidewall markings on the tyres currently fitted to your car. The information you're looking for is marked A – E in the image below. There is often additional information marked F – I, however you don't need this to know your tyre size.
Width of tyre in millimetres

Profile height of a tyre sidewall as a percentage of the width

The diameter of the wheels inner rim in inches

Load Index indicates the maximum load the tyre can carry

Indicates the maximum speed for the tyre

The model name of the tyre. Unique to each manufacture

Maximum load that the tyre is designed to carry (in both kg and lbs)

Maximum pressure that the tyre is designed to be inflated to (in both bar and psi)

Brand name of the manufacture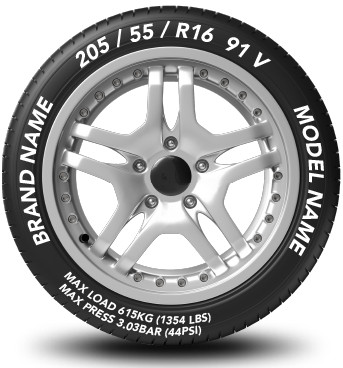 Can You Put Different Size Tyres on Your Car?
You can put different size tyres on your car, however you will also need to change the size of your rims. This will impact your steering and suspension, and you may need to change the configuration of your speedometer. Therefore, you should only do this with the help of an expert tyre technician. So speak to the team at your local HiQ Centre before going any further.
It should also be noted that you shouldn't put different sized tyres on the front or back of your car. And certainly not on the same axle. At HiQ, we strongly recommend fitting four of the same tyres to your car – and ideally using Original Equipment tyres where possible. This is because it has been proven to be much safer when you have 4 of the same tyres on your car.
Don't Some Cars have Different Sized Tyres on the Front and Back?
There are some exceptions which have different sized tyres on the front and back of the car. For example, you might see differently sized tyres on the front on back on rear-wheel-drive cars such as BMWs and Mercedes. However, this is only ever done when the tyres have been fitted as Original Equipment and been through several years of testing by the vehicle manufacturers and the tyre manufacturers.
Browse by Your Car Manufacturer
Once you know what tyre size you need for your car, you can find the right tyre by browsing to your vehicle model on HiQ's website. Simply navigate to the right make and model and you'll find a list of tyre options that you can fit to your car. You'll then be able to see all of the relevant information to help you make an informed choice on the best tyre for your car, such as:
Seasonality: summer, winter or all season tyres
Wet rating: how well the tyre performs in wet conditions
Noise rating: the noise generated by the tyre
Fuel efficiency: how much fuel is required to roll your tyres
For more information on choosing the right tyres, read our tyre buying guide.